Pre-Sale of Back At It! Get it before everyone else.

(Item will generally ship within 1 day)
Offically will be released July 7th, 2015 on via all music outlets
I spent a few days in Bermuda working with students at the Warwick academy as well as other local music students. Here is a nice article about the event.Click to read entire article
http://bernews.com/2015/02/jazz-best/
Warwick Academy is the place to be this weekend for the best of Bermuda Jazz, as they are hosting two guest Jazz musicians, Mr. Derrick Gardner and Mr. Albert Rivera.
They will be playing with the Warwick Academy Jazz Band at the sold out Gala night on Saturday [Feb 21] along with Bermuda Jazz Musicians Toni Barri, Stan Gilbert and Ronnie Lopes. The saxophone portion of the evening is dedicated to the late Dr. Neil Bernie who tragically died last year.
Left to right front row: Philippe Miranthis, Albert Rivera, Theo Wolffe.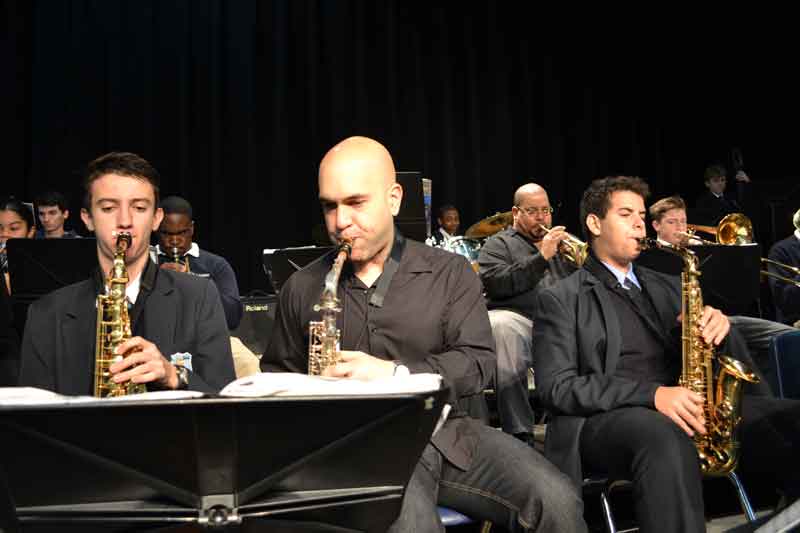 A spokesperson said, "The evening is sponsored by Costas Miranthis and Partner Re along with a generous benefactor who appreciates the dedication of Head of Music Kent Hayward and the talent of the Warwick Academy student musicians.
"In addition Warwick Academy will be hosting other schools today for workshops with Derrick and Albert so all of Bermuda get to take advantage of the skills and expertise these musicians bring to the Island.........
Shows and appearances of note coming up!
August 8th, 2015 - A.R Quartet Official After Party and Jam Session (Crown Plaza Hotel, Southbury, CT)
June 27th, 2015 - Albert Rivera, Donald Harrison, Zaccai Curtis, Winard Harper Don Braden, Nick Roseboro & Others LJC Fundraiser - Danbury, CT
May 28th, 2015 - KW Realty Grand Opening (Tenafly, N.J)
May 1st, 2015 - 10th Anniversary Celebration for Palace Theater (Waterbury, CT)
Stay tuned. 2015-2016 currently being booked
"Inner Peace"

Rivera's second album showcases his contemporary, smooth, and eclectic sounds. The album features some of the finest musicians on the jazz scene today, including Mark Whitfield, Luques Curtis, Jean Caze, Zaccai Curtis, Nick Rosbeoro, Nathan Jolley, Beck Burger and John Iannuzzi.
Albert Rivera's original release : Re-Introduction
Albert Rivera with internationally acclaimed drummer Ralph Peterson, trumpet sensation Christian Scott, Zaccai Curtis, Luques Curtis and others playing original compositions encompassing the essence of John Coltrane's music with a modern day feeling, mixing vamps and grooves with tradition.
19th Annual Litchfield Jazz Camp
July 12th - August 9th 2015!
"I am proud to be the Director of Operations at the The Litchfield Jazz Camp. This coming year we are thrilled to present the 18th Annual Litchfield Jazz Camp and the 17th Annual Jazz Festival! LJC has a WORLD CLASS faculty and is located at a beautiful venue! Hosted at the Canterbury School (New Milford, CT), students have the opportunity to study with some of today's top jazz musicians. From ensemble coaching to one-on-one private lessons, Litchfield has you covered!" -Albert.
For more information, visit the Litchfield Jazz Camp website.
2012 Chamber Music America Recipent Albert was named a 2012 recipent of the Chamber Music America Residency Partnership Program Grant. This grant is in conjunction with Litchfield Performing Arts and Project Poetry Live! It will give students from across Conneticut the opportunity to work with Albert Rivera and his Organ "Unleashed" ensemble. He will lead a number of performances at local communities organizations.
2009 ASCAP Young Jazz Composers Award
The Albert Rivera Quartet was selected to represent the winners of the 2009 ASCAP Young Jazz Composers Award with a performance of "Greenetones" at the annual Jazz Hall Of Fame ceremony. The event took place on June 16th in the Allen Room at Lincoln Center. Albert would like to thank ASCAP and all of the incredible supporters of the A.R Quartet.